ea
11. DIY Detox Aloe Water
Aloe is a sensational digestive aid, and its incorporation into DIY detox water is revolutionary for dieters everywhere. A household plant can be a perfect specimen for harvesting healing gel. The ooze can be gently extracted with a knife tip before being blended into lemon juice. This serenely sour liquid dilutes the aloes thickness for easy absorption into the bloodstream. Once digested, aloe promotes relief from fatigue by boosting energy production from the inside. Please note that pregnant women are cautioned against consuming aloe ingredients, but everyone else can raise a toast to purification with this serenely refreshing selection.
Detailed recipe and credit – diynetwork.com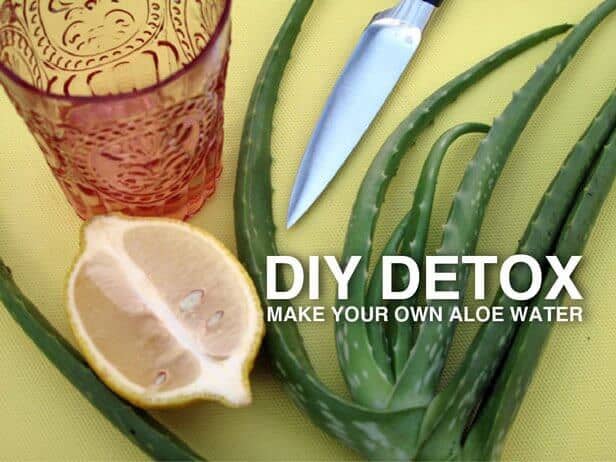 12. Sassy Water
All impurities must beware of Sassy Water. This classy concoction gets its name from a uniquely snappy flavor. Cucumbers instill maximum levels of hydration, and lemon smoothes out the digestive lining to speed up internal food processing. Ultimately, this leads to a flatter belly alongside the promotion of kinetic energy. By allowing all of the ingredients to settle together overnight, a stellar natural cleanse is born. Mint leaves are included to keep it cool and fresh with a seriously tantalizing tingle. A dash of peppery ginger can also be swirled into the mix to bolster its purifying powers. Bon appetite!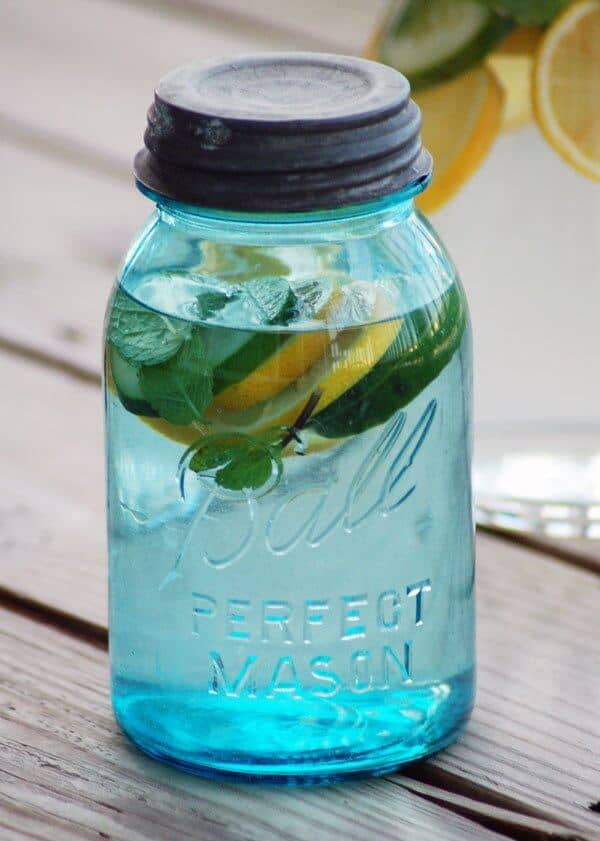 13. Naturally Flavored Fruit & Herb Detox Water
Ladies, get ready to give up carbonated sodas once and for all! This deliciously detoxifying potion is the world's top substitute for mass-produced bottled beverages.You could refer to this mix as a queen of purity. Furthermore, the lack of manufactured materials reduces the strain on our environment. Often times, the custom approach works best. Each woman has her own individual needs, so it is wise to fine-tune a detox program to meet personal lifestyle demands. Just remember to keep it simple. With these feisty formulas, less is almost always better. Fruits and herbs are essential to any signature flavor that sheds pounds.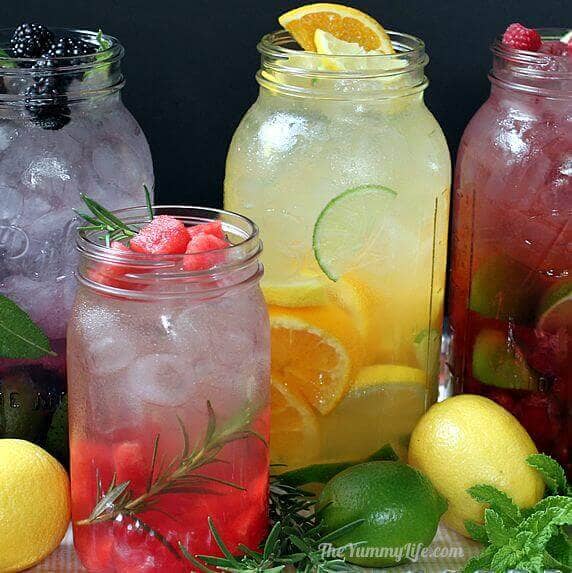 14. Flavored Strawberry Fruit Water
Treat your taste buds to a fruit-filled rainbow. Cavalcades of sweet natural treats are infused in this energetic ensemble. The primary ingredient emphasizes a foursome of the following fruits: apples, lemons, oranges and pears. All of them are divided up equally, and the collective is subsequently balanced with an equal amount of strawberries. Alongside a bunch of raspberries and mint leaves, this will be the most satisfying glass of strawberry detox water that you have ever tried. Your goblet would be privileged to contain such a luxuriously satisfying libation. This aromatic water represents the raw juice cleanse of womankind's future!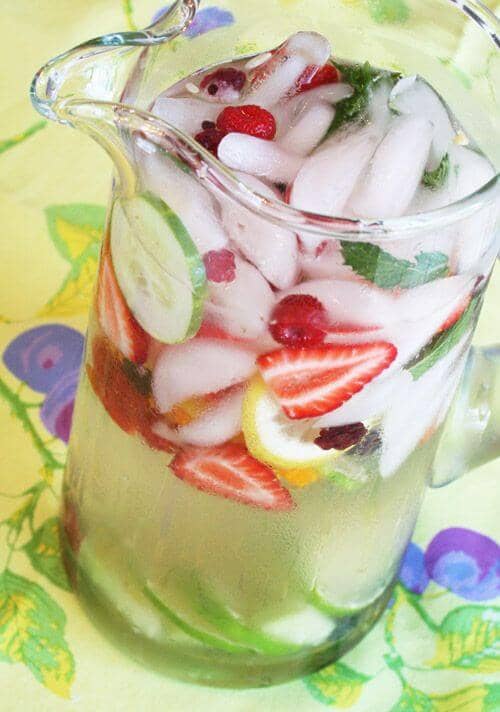 15. Blueberry Lavender Water
Here we go! This one is a special elixir that cures the mind and body alike. The blueberries naturally expel unwanted toxins in droves, and they release ample B vitamins into the system, which promotes energetic exercise alongside active engagement. The lavender is also particularly soothing for the brain. In terms of detox water recipes, it is hard to find another brew that delivers such stamina and clarity. When selecting lavender leaves, it is wise to select mature plants with robust petals. The opposite is true for berries. With smaller varieties, more nutrients can be jam-packed into the detox blend.
Detailed recipe and credit – melissas.com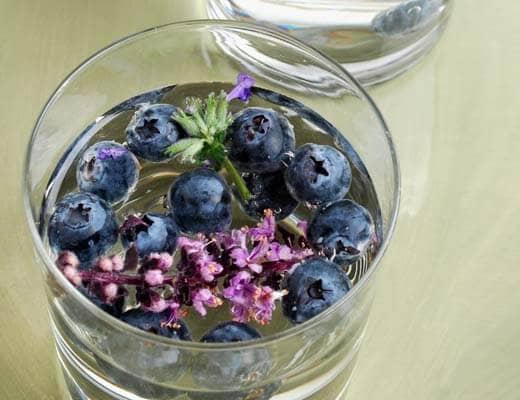 16. The Apple Cider Soda Detox Beverage
For a fast track towards a clean system, nothing can compare with the unrivaled power of apple cider vinegar. This potent ally allows blood sugar levels to reach a balanced state, and it reduces the appearance of acid to promote body alkalinity. Each teaspoon carries a meager 3 calories, so there is no reason to hesitate when mixing it in. Adding sparkling mineral water can transform this drink into a decadent soda substitute. It can be a great way to switch off from unhealthy carbonated beverages. To match the sweetness of today's sodas, simply add stevia to reach the desired balance.
Detailed recipe and credit – yurielkaim.com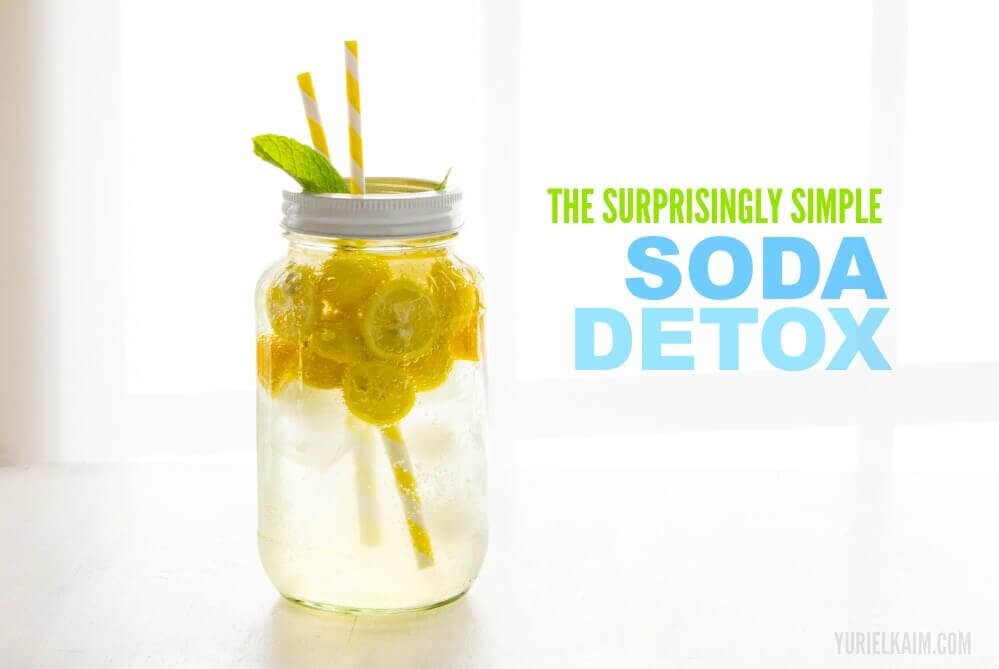 17. Strawberry, Lime, Cucumber and Mint Water
To indulge in a supreme detoxification experience, this devilishly rich combination achieves liquid perfection. Despite their sweetness, strawberries are uniquely healthy, especially when it comes to promoting antioxidant intake. This spunky pink fruit has a ravishingly tasty bite, and it empties the body of errant toxins. Strawberry detox water is masterfully enhanced by limes citrus zing. This fruit purifies the intestines and fortifies the colon. Cucumber plays a role in managing efficient hydration, and the mint keeps all of the digestive organs calm.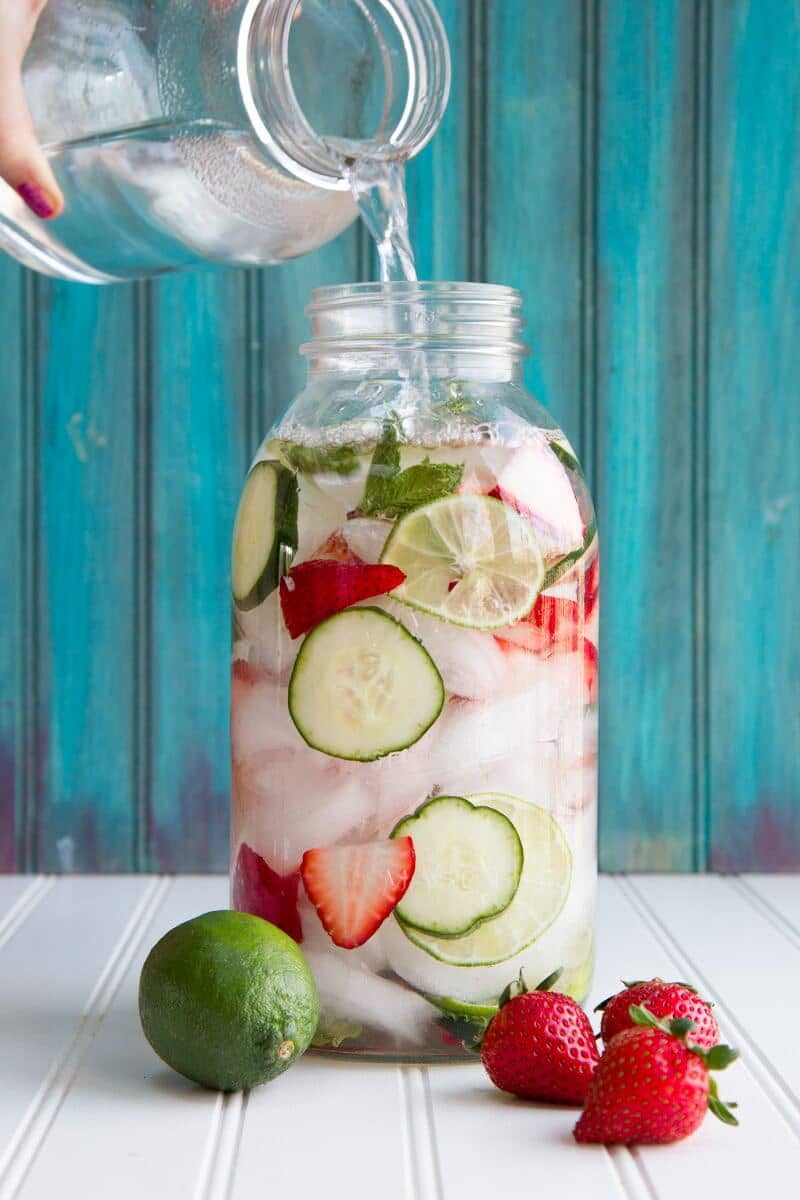 18. Refreshing Citrus and Cucumber Detox Water
This enriching brew will fuel your core with hefty doses of vitamin C. This health positive compound purifies the entire digestive system while also flushing out toxins from the liver. The citrus fruits also carry enzymes that dissolve fat instantly. The cucumbers perform a similar role in building high hydration levels, and the nutrients are vital for radiant flesh and beautiful skin. The deliciousness can be enhanced by a gentle mashing of the fruits. Overnight stewing also helps, but the lemons should be removed before long-term storage to eliminate excess bitterness. This gentle detox water will fill you up guilt-free!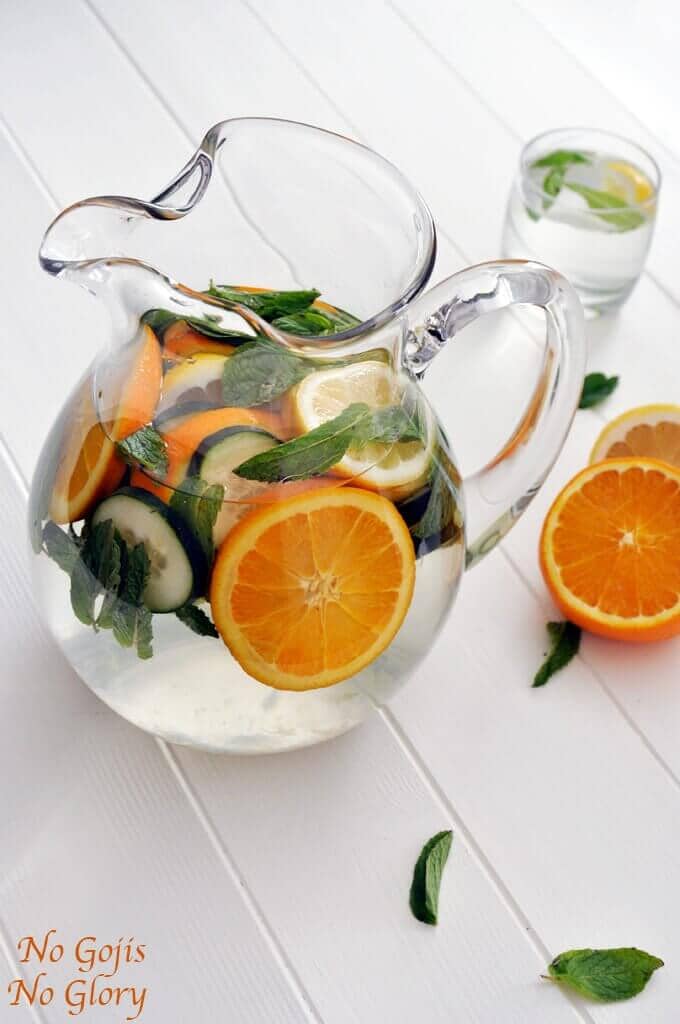 19. Watermelon and Mint Detox Water
Watermelon detox water is a modern amenity that everyone should at least get to try once. There is no effort involved in this rapturous drink, and it yields a bounty of relaxation. Melons are great for cleaning out the bladder, and mint quells the woes of an upset tummy. Moms love giving this detox beverage to kids, and it is a great way to eliminate artificial fruit juices from the household diet. With this kind of water, every glass is unique. With an active curiosity, any kitchen can become a haven for alchemy. Prepare to turn H2O into liquid gold.
20. Strawberry Flavored Water
Say good riddance to the summers filled with unhealthy lemonade. Kiss the bellyaches goodbye by switching to the joy of this stunningly sweet strawberry detox water. A rich lemon core purifies the entire digestive arena, and it masks most of the complex flavor with a brilliant spectacle of sour. Scrunched basil leaves really amplify the tang, and strawberries bring endless antioxidants to the table. Overall, this is not a drink to be trifled with; however, it can be enjoyed during all occasions. As a bonus, it offers a great method to show off a gardeners grand harvest each coming year.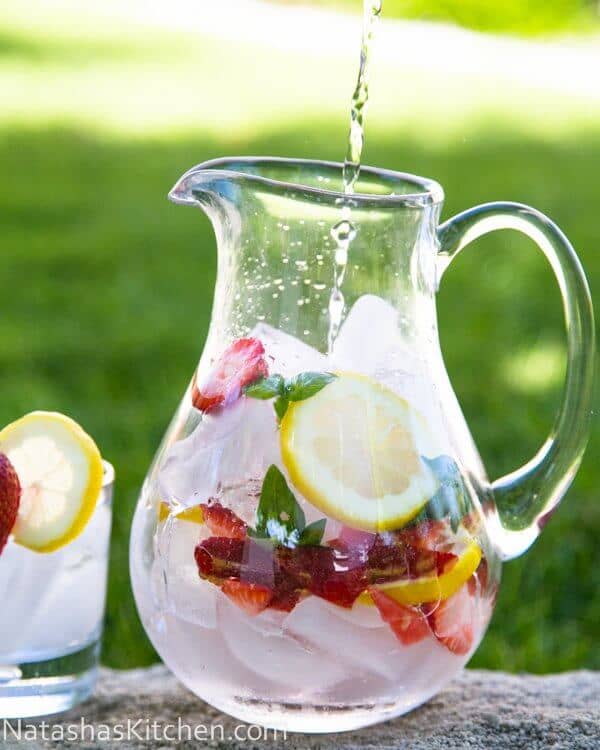 (Article continues on next page)